The Jorobadas Whales in the Bank of the Silver
The Jorobadas Whales in the Bank of the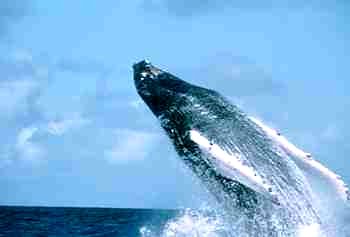 Silver
The Bank of the Silver is to about 140 kilometros to the north of the province of Puerto Plata and has a depth average of 20 meters, although it can reach depths of up to 1.800 meters. In the northwest of the area a reef exists that protects the bank near as the Jorobadas Whales concentrate themselves mainly (Megaptera novaengliae).

To be dangerous for navigation, this zone very is not frequented by boats.

In these calm waters the whales find an atmosphere adapted to reproduce and to take care of of their young during epoca winter. Despues of one cuts season in the bank, the whales return with his crias to cool waters of the Atlantic North. Esteem that during the months of November until April between 2.000 and 3.000 Jorobadas Whales visits the Bank of the Silver, which  is a 80% of the total population of these whales in the North Atlantico.

The Bank of the Silver is a critical zone for this species reason why it must be protected, to guarantee the survival of this threatened mamifero sailor. The Jorobada Whale is the second rarest one of the great whales and pleases to live near waters not very deep next to the islands, reason for which the populations have been operated irrationally.
Also  the whales like formation can be in the bank a great diversity of extensive marine fish coralline. Also several species abound with marine turtles, to which the bank relatively surely offers an ecosystem of the persecution of the man.
This article is an automatic translation of its original in spanish:  Las ballenas Jorobadas en el Banco de la Plata
Links