The Teleferico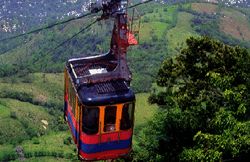 A unique experience in the Caribbean

One of the singular experiences that offer Puerto Plata to the national and foreign tourists is the Cableway, unique in the country and the Antilles, that allow us to visit the top of the mountain Isabel de Torres, where Christ Redentor hopes with the opened arms at which they are ventured to watch the complete city from the stop.

At the moment one is to all capacity, this wonder constructed in 1973 and recovered in 1999 and that thanks to the work of a patronage has been improving the conditions of one of the most beautiful gardens of the country.

One stands out, by mainly, the security of both funiculares which they transport to the top of the mountain, which they have capacity for 18 people and they hardly make the passage in ten minutes, to which maintenance occurs them permanently, so that they operate in optimal conditions.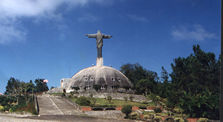 At the moment they count on a modern system computerized for its operation as well as on an electrical plant of emergency.

The cableway operates daily, of 8:30 in the morning to 5 of afternoon.

In the top so much can be enjoyed restaurants, cafeterias, gift shops, scattered in 215 tasks of this beautiful national park that counts on appropriate passable roads and ambient to rest, to enjoy a lunch in family or a romantic encounter.

In place it reunites all the conditions of security so that the children can enjoy a unique experience.One stands out that the administration offers facilities to religious groups, cultural and communitarian that wish to organize excursions to this important attractive of Dominican Puerto Plata and all and the Dominican ones. 
More details?