Beaches of Puerto Plata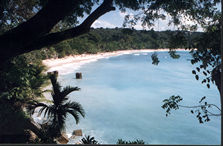 Perhaps the fines beaches in the Dominican Republic can be found along its superb Amber Coast, 75-mile strand of unspoiled beaches on the north side of the island.  And nowhere does this legendary coast's allure seem more irresistible than on the shores of Puerto Plata.

It the pursuit of happiness ranks high on your list of priorities, consider pursuing it in charm of this colonial town.  Embraced by mountains on one side and beaches on the other, this rapidly growning resort offers visitor a fun-filled vacation.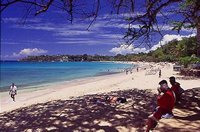 Puerto Plata
Most of the major hotels are located in the 
Playa Dorada
("Golden Beach") area.  This is a marvelous beach, protected by coral reefs and offering a wide array of water-sports facilities.  The waters are clear and warm and almost always calm.


To the west of town in Guarapito, a crescent-shaped beach with dense green fringe of tropical vegetation providing plenty of shade.  While you're here, visit Cofresí Beach, a small, pretty, palm-shaded cove that-affords a panoramic view of the rest of Puerto Plata.

If you're seeking a more typical ambience, try Long Beach, the city beach to the east of downtown.  This beach is just a little over a mile long and is a favorite among the locals.


Sosúa Beach is truly spectacular;  its white sans and clear waters are the area's primary draw.  Smaller, less crowded beaches are accessible from El Batey.  These include La Playita, with public access through a path next to the Casa Marina hotel, and Playa Chiquita, a tiny strand opposite the hotel and casino of the same name.  And secluded coves dot the shoreline all the way to Cabarete, the location of an annual international windsurfing competition.