Interest places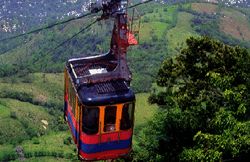 A good start for a tour of this city would be a cable car ride up Monte Isabel de Torres, 2,665 feet above sea level.  Here, at the foot of the colossal statue of Christ the Redeemer(reminiscent of Rio de Janeiro Corcovado), is a sensational view of the city and its surroundings.  At the base of the statue is the Centro Artesanal, a shopping arcade selling local arts and crafts.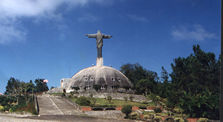 Downtown, the outstanding feature of old Puerto Plata is the strong influence of late-Victorian styles on its architecture and design. Quaint gingerbread houses, their white fences aflame with bougainvillea, and the restored gazebo in the central square of Independence Park, hark back to more lyrical times.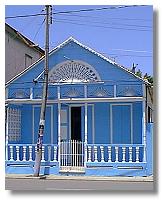 A walk thought the center of town will take you to the resplendent white towers of the Church of San Felipe.  Though a rather simple structure, this church has a provincial appeal that is quite special.
Close by is The Amber Museum. An outstanding example of Victorian Architecture, the museum houses some of the most remarkable specimens of this gemstone, the designated national gem.

Not to be missed is the Fort of San Felipe, an imposing stone fortress dating back to the 16th century.  Built to ward off attacks from French and English pirates and later used as prison for political dissidents, the fort is today a museum haunted by legends and filled with interesting memorabilia of the city's past.  At night, the fort is outlined in a dazzling display of lights.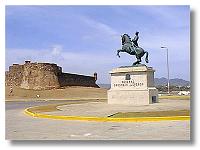 Just beyond the fort, you'll see the General Gregorio Luperón Monument was one of the Dominican Republic's greatest heroes; in1879, under his leadership the country was reorganized and set on the road to economic recovery.
This article is an automatic translation of Lugares de Interés de Puerto Plata